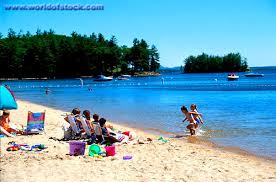 Sebago Lake is the deepest lake in the state of Maine. The lake is about 316 feet deep with average depth of 107 feet. Sebago Lake is also Maine's second largest lake.
it is located 20 miles northwest of Portland. It is heavily used for recreational purposes including swimming, boating, and fishing. It serves as a public water supply for approximately 160,000 people in the Portland area. The lake and associated wetlands provide habitat for a variety of wildlife. It is connected to Brandy Pond via the Songo River, and from Brandy Pond to Long Lake in Naples, Maine.
The Sebago greater Lake region is a Great place for record fishing, miles of boating, canoeing or Kayak, Sebago Lake region is also a camping bonanza with a large selection of camps, cottages and motels. The name comes from the Indian tribe the Sebago of the Abenaki Native American tribes. see map below.
| | | |
| --- | --- | --- |
| | | The Lake shoreline is 105 miles long, in seven towns - Casco, Naples, Raymond, Sebago, Standish, Windham and Frye Island. |
The lake contains natural populations of land-locked salmon and smelt. When the last major glaciers retreated, the entire watershed was under seawater, and populations of these marine animals became established as the land rose and sea waters retreated.
Sebago Lake holds the rod and reel record for Lake dwelling Atlantic Salmon, 22.5 pounds caught in 1907
The Songo Lock, is the last existing of 28 locks built for the Cumberland and Oxford Canal.
| | | |
| --- | --- | --- |
| | Sebago Lake is also the home to a 800 acre Island which has its own town Frye Island. | |
Sebago is the home to 28 species of fish, Go to Maine Fishing News for more detailed info, Sebago Lake holds the rod and reel record for lake dwelling Atlantic salmon, 22.5 pounds, caught in 1907, Sebago Lake also has the present or former state record for brown trout, chain pickerel, lake whitefish and cusk. There is a abundance of Fish species that can be found in the Lake.
Great Blue Heron shown here on Sebago Lake.

Great Blue Herons can be found in a range of habitats, in fresh and saltwater marshes, mangrove swamps, flooded meadows, lake edges,

or shorelines, but they always live near bodies of water. Generally, they nest in trees or bushes near a body of water. The primary food for Great Blue Heron is small fish.
Nearly 500 acres of wetlands are connected to the lake.
| | | |
| --- | --- | --- |
| | Vegetation includes red maple, birch, willow, larch, Atlantic white cedar, alder, bayberry, steeplebush, cattail, rushes and sedges and also provides habitat for the following animals: | |
| | | |
| --- | --- | --- |
| | The Common Loon species, | like all divers, is a specialist fish-eater, catching its prey under water, diving as deep as 200 feet. When the birds land on water, they skim along on their bellies to slow down, rather than on their feet, as there feet are set too far back. |
The Common loon, Canada goose, mallard duck, black duck, bufflehead, wood duck, common merganser, hooded merganser, great blue heron, American bittern, common snipe, greater yellowlegs, mink, otter, muskrat, raccoon, whitetail deer, moose, water shrew.
| | |
| --- | --- |
| Brook (or speckled) trout are one of the trout species native to Maine waters. They are easily recognizable by their cream-colored spots set against a dark background | |
| | |
| --- | --- |
| | Great horned owls are big and bulky (3-4 pounds), standing 18-25" tall with a wingspan of 36-60" long. Males and females are similar in appearance, except the female is the larger of the two. The plumage of the great horned owl varies regionally, from pale to dark. more info |
Upland animals near Sebago can include: black bear, oven bird, great horned owl, wood thrush, deer mouse, chipmunk, gray squirrel, red squirrel, woodland jumping mouse, northern flying squirrel, southern red-backed vole, red fox, gray fox, smoky shrew, white-tailed deer, moose, bobcat, snowshoe hare, long tailed shrew, porcupine, coyote, fisher.
Did you know?? Maine has an estimated 23,000 black bear - more than any other eastern state. They are omnivorous meaning that they eat both plants and animals and may live more than 20 years in the wild.
Reptiles and amphibians that prowl near and in Sebago Lake include: spring peeper, gray tree frog, red spotted newt, bullfrog, painted turtle, snapping turtle.
Dakota Lawn Green Lawn care Organic Fertilizer
Professional Landscaping Sebago Services Area
Home Maintainance 207-636-7316
_________________________
<![if !vml]>
<![endif]>
______________________
Need a Sticker?
We will check your automobile to see what you need to get a sticker, then we will give you the lowest price to get you on the road.
<![if !vml]>
<![endif]>
_____________
Maine-ly Smallmouth Guide Service - 207 268-3474
Jack Duggins - mainegold@yahoo.com
Focus Species: Smallmouth Bass, Stripe Bass.
-----------------------
207-872-9688
John Blais - jpblais@prexar.com
Focus Species: Smallmouth & Largemouth Bass.
-----------------------
-----------------------------
Maine Experience Guide Service - 207 215-3828
Jay Farris - maineexperience@aol.com
Focus Species: Stripers, blue fish, small and largemouth bass, pike and salmon.
---------------------------------